>
Home
>
Parent Resources
Step 1 – We encourage families to apply online as it simplifies submission and provides parents the ability to track the status of their child's application. To begin the Online Application process, Create an Account. Upon account creation, you will receive an email containing a verification link. Once your email address has been verified, log in to your account and Create A New Student Application for your child. You will then have the flexibility to log in and out of your account and access your open application.
Step 2 – After completing the online admissions and creating an account you need to visit the website of our vendor: www.factsmgt.com when the main page appears please go to the top right of the screen and look for the Login (it's orange) choose the dropdown choice of: Parentsweb Login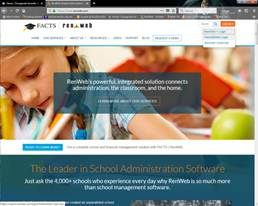 This will take you to the main login screen that you can use, once you "Create New ParentsWeb Account".  Click on this this and follow the instructions to enter your district code: OV-CA and your email address*.  ** this will take a few minutes to send out the email link – this will also send an email to any other email you have tied to your parents record/student registration forms.
Once you have received the email – click the link to create a username and password for your Registration. The primary parent on the account will show before the username and password selection.
Next step – go back and login to the parentsweb login with your new username and password.  Once you are logged in you will see this screen. (this is my personal page)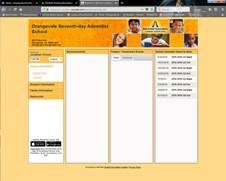 On the left side column you will notice it comes up with School Information – you need click on  Family Information and choose: Enrollment/Re-enrollment – this will come up with your students information like this.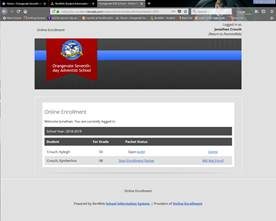 To continue choose the option for the student under the Packet status.  
From here on out the following instructions apply.
The Instructions and Enrollment Checklist page of the enrollment packet contains supplemental enrollment forms that also must be submitted. Further instructions on these forms are provided online or call us at 916-988-4310.